Maria Barbosa-Santos, Executive Director
Maria and her family made the journey from their native Cape Verde Island to the opportunities awaiting in the United States.
She received her Bachelor of Science degree in Business Administration from Mount St. Ida College in Newton, MA, followed by ten years as the Marketing Coordinator for PACE, the state's Program for All-inclusive Care for the Elderly. Thus began her career path of work and service to the elderly, fueled by her upbringing and love of family.
In 2006, Maria became the Marketing Director at Susan Bailis Assisted Living in Boston, responsible for maintaining the community's occupancy, networking with local civic groups and the medical community, and planning and executing social and professional events.
Maria was appointed Executive Director of Brigham House in 2013, bringing a unique insight and leadership skills to her position, along with a genuine affection for her residents that has become one of our community's most valuable assets.
"I love working with seniors," she says. "They have so much to share, so much wisdom, so many stories to tell.  I'm continually surprised at how simply taking the time to sit and chat with them can be so rewarding."
Maria's passion is cooking and she cherishes her time in the kitchen cooking for family and entertaining friends. Hooked on fitness, she loves exercise and running in the fresh air.
Maria resides in Milton, MA, with her husband, her son and daughter, and their dog, Jake.
Laura Demore, LPN, Resident Care Director
Laura Demore is a native of Watertown. Both she and her husband were born and raised in our wonderful community and chose to stay here after marriage and raise their three sons here, as well. As such, she loves the people of Watertown, especially our elderly population, which is evident in everything she does for our residents here at Brigham House. She loves interacting with them and listening to their life stories while keeping them safe and happy.
Laura is a graduate of Mass Bay's nursing program and comes to us with a strong background in primary care, as well as with experience at another assisted living community here in town.
During her time away from Brigham House, she enjoys spending time with her family and friends, taking time to travel, and thinking of more ways to enrich the lives of each and every Brigham House resident.
Lynne Cahill, Business Office Manager
Lynne Cahill comes to us from a highly-respected Memory Care community in Woburn, MA where she also served as Business Office Manager and where she completed her Memory Care Dementia Practitioner training.
She graduated from Newbury College in Brookline with a degree in Business Management as well as an Associates Degree in Physical Therapy.
Lynne lives in Winchester with her husband, a son and a daughter, 2 dogs and 1 cat. She enjoys gardening, exercising, yoga and walking her dogs.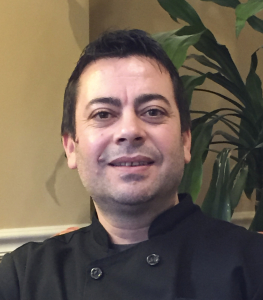 Ylli Gjino, Food Service Director
Ylli came to America from Albania in 2001 with his wife, a 6-month old daughter and a passion to cook.
Positions in small restaurants were followed by those of ever-increasing responsibilities in larger Greek and Italian kitchens where he could learn more about those popular cuisines while more fully expressing his culinary talents and blending in his knowledge of Mediterranean cuisine.
Brigham House residents have been the delighted recipients of Ylli's exceptional talents since he joined our staff in 2009. Now our Food Services Director, residents are treated to a diverse menu of delicious creations that reflect the wide range of Ylli's culinary skills and experience – dishes that reflect the affection he has for his Brigham House family and infused with a little love in every bite.